Home

/

TITAN AI Queue - Customer Management
TITAN AI Queue - Customer Management
TITAN AI Queue - Advanced Imaging for Customer Management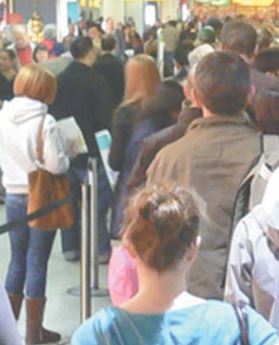 TITAN AI Queue is a real-time automated customer analysis and management solution. TITAN AI Queue presents what is happening to an entire customer population in real time, enabling retail operators to act decisively to increase efficiency whilst maintaining the customer experience.

The TITAN AI Queue high performance solution ensures that customer behaviour can be effectively detected, analysed and presented quickly and with the minimum of intrusion. Each TITAN AI Queue deployment is individually tailored to the client's specific requirements providing both state-of-the-art and fit-for-purpose solutions.
TITAN AI in Retail

The TITAN AI Queue customer analysis solution processes live video input from commercially available HD cameras. The system detects customer movements automatically using sophisticated Artificial Intelligence based Facial Recognition Techniques. TITAN AI Queue outputs live data about everything from flows, queues and wait times or processing times and asset utilisation.

Live dashboards reveal opportunities to improve real-time efficiencies and accumulated historical material provides reliable data for planning and investment.

For Retail or Food & Beverage operators, TITAN AI Queue enables improvement in customers experience as well as bottom line, by providing the data and analysis needed to make better decisions.

Retail Customer flows

TITAN AI Queue's customer analysis solution provides valuable real-time data about footfall. Assessing how many people flow through entrances and exits, and how many approach, enter or leave particular retail spaces.

Managing Assets

TITAN AI Queue provides real-time data allowing demise managers to accurately control asset utilisation in situations such as information booths and service desks.

Managing Supply and Demand

TITAN AI Queue customer analysis solution provides real-time data to help schedule future staffing needs and can also help optimise equipment maintenance and facilities management.

TITAN AI Queue data enable a retail or food & beverage operator to build stronger and more effective relationships with its operational partners.

TITAN AI Queue in Retail - Key Benefits

TITAN AI Queue provides high speed image analysis developed specifically to help manage:
Customer Flow
Queue and Waiting Issues
Processing Times
Asset Utilisation
Health and Safety
Staff and Maintenance Scheduling
The Customer Experience
Download the TITAN AI Queue Shortform Brochure


TITAN AI Queue - Retail
UK Headquarters
Visual Management Systems Limited
15 Cambuslang Road, Cambuslang Investment Park,
Glasgow G32 8NB
United Kingdom
+44 141 643 3070