Graduate Vacancy
Graduate Vacancy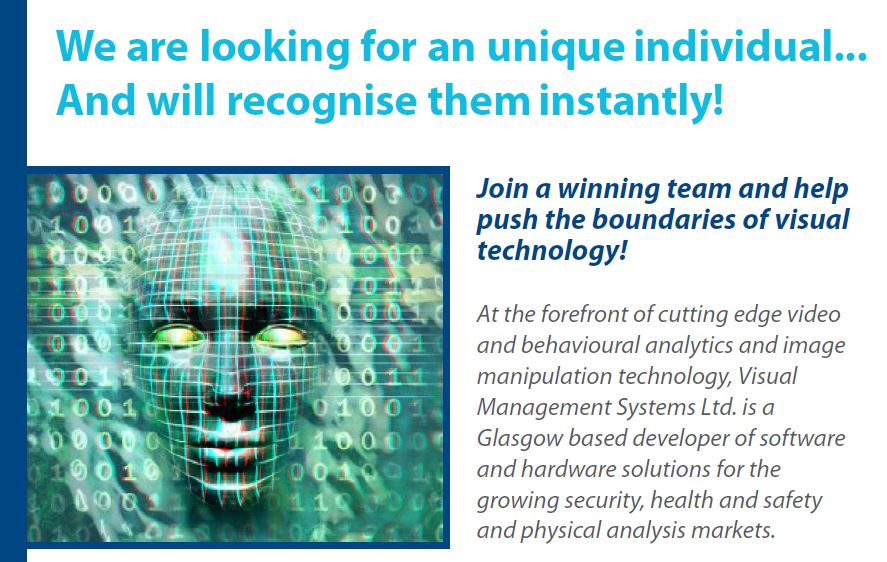 Do you fit the profile?
The Company
Founded in 1996, industry leader, Visual Management Systems Ltd. provides sophisticated solutions and services to customers in the UK and overseas, both directly and through international partnerships with other technology companies. Our technology has been deployed in many environments including: Retail, Military and Defence, Border Security, Police, Transport, Ports and Airports, Energy, Utilities, Urban Centres, Museums and Galleries, Universities and Hospitals.

Our core values: Teamwork, Experience, Customer Care, Professionalism and High Quality.

R&D Engineer (KTP Associate)
Great Technology - Great Team - Great Opportunity!

Through an on-going relationship with the University of Leicester, Visual Management Systems Ltd. is seeking a Master's level student or graduate who is looking for the challenge of a lifetime, working within a KTP (Knowledge Transfer Partnership) and joining a team of software and hardware developers based in Scotland to develop leading edge convergent low-cost, power-efficient security systems capable of real-time facial recognition.

Fascinated? Contact us today... Click here for a full job summary for the position

eMail your CV to: info@titan-vision.com

The Ideal Candidate
You will have the minimum of a Master's degree qualification in Mathematics, Computer Science, Physics, Engineering or a related discipline. Candidates with higher degrees are also encouraged to apply.

Other essential requirements:

Familiarity with Data Analysis and Machine Learning algorithms.
Applied programming skills (e.g. MATLAB, C, C++)
Willingness to take ownership of the project in all respects, including financial management, staff training, development of the commercial business case and full project leadership, encompassing management of resources and timing.
Good problem solving skills.

Desirables

Familiarity with LINUX.
Network programming skills
Knowledge of database technologies i.e. MSSQL / MYSQL
Familiarity with principles of object orientated programming

Salary range: £25,000-£35,000 per annum + £5,000 Training Fund - This appointment is for a period of 2.5 years on a fixed term contract basis with the possibility of a permanent role.