In the News
A look at the TITAN portfolio in the News.
Source Security News Desk Magazine.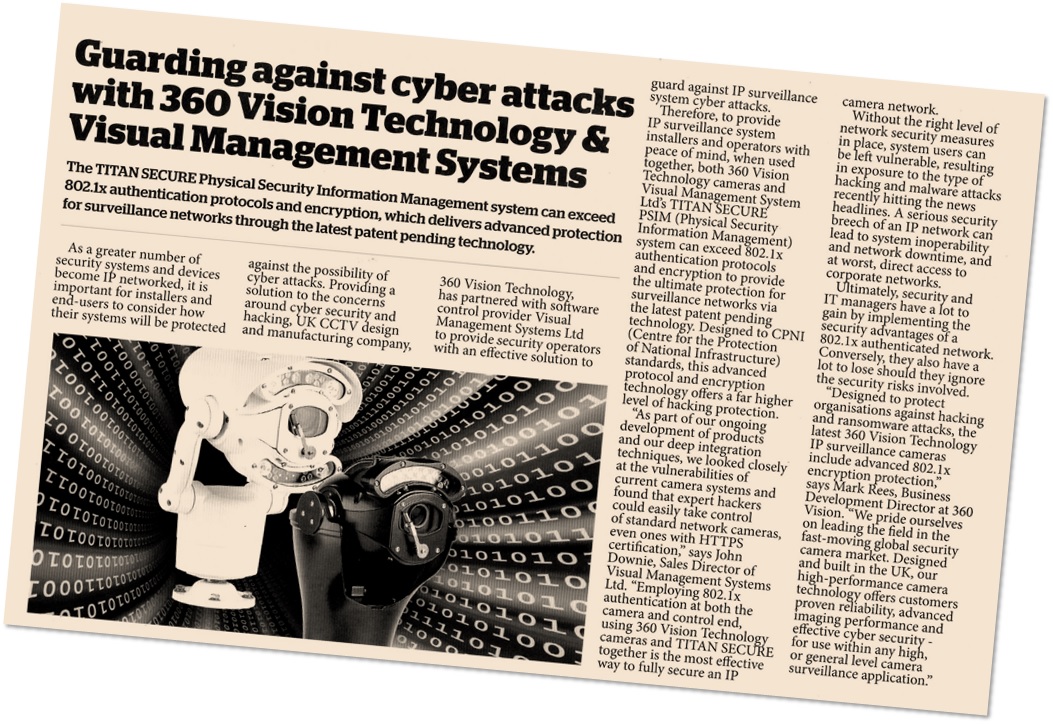 TITAN VISION & 360 Vision enhance Cyber Security
360 Vision Technology & Visual Management Systems Ltd guard against cyber attacks

Source Press Release from 360 Vision - As more and more security systems and devices become IP networked, it's important for installers and end-users to consider how their systems will be protected against the possibility of cyber attacks. Providing a solution to the concerns around cyber security and hacking, UK CCTV design and manufacturing company, 360 Vision Technology, has partnered with software control provider Visual Management Systems Ltd to provide security operators with an effective solution to guard against IP surveillance system cyber attacks.
TITAN VISION utilises Matrox Cards to Power Modular Video Wall Solution
C-Series and Mura IPX Graphics Cards to Be Demonstrated with TITAN WALL at UK Security Expo 2016
Montreal, CA & London, UK — November 22, 2016 —Matrox Graphics, a global leader in the design and manufacture of video wall and multi-display graphics cards, announced the integration of its Mura IPX and C-Series products into Visual Management Systems' new TITAN WALL video wall system.
The TITAN WALL video display wall is an integrated multi-platform, modular video wall solution comprised of a robust video wall processor controller, video wall management suite, and display surface. Offering unmatched display flexibility and control in security monitoring, command and control, and public information scenarios, TITAN WALL provides a user-friendly, intuitive interface maximising the efficiency of a video wall solution, independently and effortlessly managing and displaying images onto your video wall display surface.