Home

/

TITAN VISION Presented at Portsmouth event
TITAN VISION Presented at Portsmouth event
Adam Moorhouse Regional Sales Manager presented the concept of TITAM VISION PSIM solution to an eager audience at the recent IP-in-Action LIVE event at the Holiday Inn Portsmouth, part of a series of educational and promotional road show events across the UK.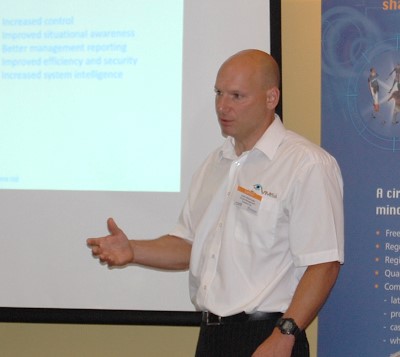 Adam Moorhouse presenting Situational Awareness & the value of integration
Seminar: Striving for Total Situational Awareness
Adam Moorhouse Regional Sales Manager at Visual Management Systems Ltd., developers of TITAN VISION PSIM and 'Command and Control' Solutions.
Topics covered:
PSIM v VMS solutions
The Value of Deep Integration
Non Security related Applications
Essential technologies for total Situational Awareness
Common gaps in Situational Awareness
How to introduce the concept to a client
Adam also demonstrated TITAN VISION, the next generation of security management technology illustrating how offering PSIM solutions to an existing client can provide customer loyalty and future profitability.
Quiz the Guru Panel Discussion
Related posts
Through an on-going relationship with the University of Leicester, Visual Management Systems Ltd. has benefited from the involvement of Dr. Sepehr Meshkinfamfard (a.k.a. Sep) in a challenging role over the past two years, working within a Knowledge Transfe…
Following the recent "ITV NEWS at TEN" report concerning the effectiveness of Facial Recognition, the comments made by the reporter Joel Hills, Business and Economics Editor for ITV News and the President of Microsoft Bra…
UK Headquarters
Visual Management Systems Limited
15 Cambuslang Road, Cambuslang Investment Park,
Glasgow G32 8NB
United Kingdom
+44 141 643 3070