Home

/

TITAN VISION Presented at Portsmouth event
TITAN VISION Presented at Portsmouth event
Adam Moorhouse Regional Sales Manager presented the concept of TITAM VISION PSIM solution to an eager audience at the recent IP-in-Action LIVE event at the Holiday Inn Portsmouth, part of a series of educational and promotional road show events across the UK.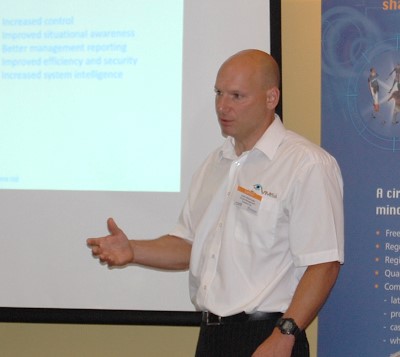 Adam Moorhouse presenting Situational Awareness & the value of integration
Seminar: Striving for Total Situational Awareness
Adam Moorhouse Regional Sales Manager at Visual Management Systems Ltd., developers of TITAN VISION PSIM and 'Command and Control' Solutions.
Topics covered:
PSIM v VMS solutions
The Value of Deep Integration
Non Security related Applications
Essential technologies for total Situational Awareness
Common gaps in Situational Awareness
How to introduce the concept to a client
Adam also demonstrated TITAN VISION, the next generation of security management technology illustrating how offering PSIM solutions to an existing client can provide customer loyalty and future profitability.
Quiz the Guru Panel Discussion
Related posts
In this Ports and Airports special feature we demonstrate our committment to the safety and security of passengers and staff at major transportation hubs across the globe. In the brief article we look at the challenge of upgrading the Shannon …
The Cyber Attack that is spreading across the world may affect your security network. The Cyber Attack freezes computers on your network until you pay a $300 ransom to an anonymous BitCoin account. Is there a possibility that one of your systems has…
Upcoming Events
New security exhibition promoted by UKTI. UK Security Expo. Booth M65. Join us to see the latest generation of the flagship TITAN VISION and TITAN ...
Theme: Learn from the Past - Plan for the Future Hosted by the IP UserGroup, IP-in-Action LIVE Manchester will provide an opportunity to gain a better ...
UK Headquarters
Visual Management Systems Limited
15 Cambuslang Road, Cambuslang Investment Park,
Glasgow G32 8NB
United Kingdom
+44 141 643 3070
Middle East Office Dubai
Visual Management Systems Limited
Adenar Limited (Branch) RIT Building G-029 Techno Point
Silicon Oasis PO Box 341417
Dubai, UAE
+971 4 333 8830