Occupation:

Marketing Consultant

Interests and hobbies:

Being out-doors

Favorite quote:

I think therefore I am.
Posts by phennings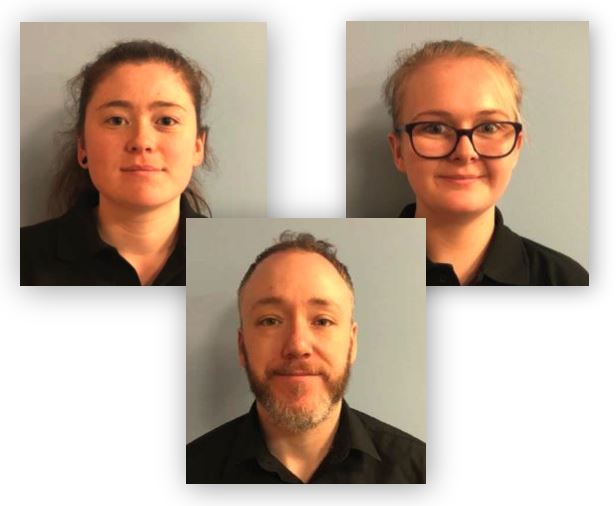 With continued growth and development of the business, Visual Management Systems Ltd. continues to add new talent to the TITAN team in their Cambuslang, Glasgow HQ. (Pictured L-R: Chloe, Shaun and Nicole)
Welcoming new blood
"It's great to welcome new talent to the team" commented John Downie, Sales Director. "It is also gratifying to see young women taking up careers in security technology. I look forward to working with them developing our growing portfolio of products over the coming months and years".
Chloe Madden
Software Engineer
"Graduating from The University of West Scotland I got the exciting opportunity to work for Visual Management Systems Ltd. The company was recommended to me in my final year of study and I was hired as a software engineer working within the TITAN development team. The role is giving me valuable knowledge and experience with large software systems and working within a team of experienced developers."
Shaun Conroy
IT Manager
I graduated with a Bachelor's Degree in Computer Systems Networking and Telecommunications at University of the West of Scotland. At Visual Management Systems Ltd., I provide IT support to the company including setup, repair and maintenance issues as well as supporting our in-house infrastructure, I work closely with members of the management team, the developers and engineers in the field with particular emphasis on achieving ISO27001. It's an interesting position and a great career move."
Nicole McKeown
Jnr Systems Technician
"I joined Visual Management Systems Ltd. to develop my skills and learn many new ones. Being a well-established company, I will gain great experience from both the company and the team members. I like the fact that the product is part of a niche market and I hope that I will learn a lot more from this."
UK Headquarters
Visual Management Systems Limited
15 Cambuslang Road, Cambuslang Investment Park,
Glasgow G32 8NB
United Kingdom
+44 141 643 3070